Friday, February 29th, 2008
Recap: Steve and some buddies are coming from New Zealand in 2009 for some motorcycle touring in Colorado and Utah. This series of posts lays out their proposed routes, with my comments. Your comments are welcome as well.
Day 4
Leaving Ouray this morning, our Kiwi band heads north on US 550 through Montrose, and Delta, and on up to Grand Junction. Their plan is to ride the Rim Rock Drive route through Colorado National Monument, and then head back south, taking the Unaweep Tabeguache Scenic and Historic Byway through Gateway and Naturita, past Telluride and over Lizard Head Pass down to Cortez. This is going to be a bit of riding, totaling about 335 miles. Here's the map. Click to see a larger version.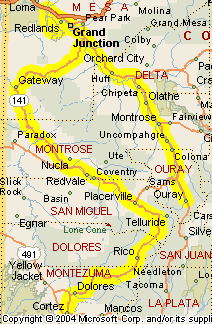 The ride up US 50 is uneventful and fairly fast. A significant portion of this road has been made into four-lane divided highway in recent years. Once they reach Grand Junction it will be necessary to enter the town and stay on the US 50 bypass on the south side before turning off onto Glade Park Road, the road that leads to Colorado National Monument. In the Monument, Rim Rock Drive is clearly marked, winding its way though and exiting to the north toward Fruita. Colorado National Monument is described as being a little bit of red-rock Utah within Colorado, and that's not a bad description.
That's not the only bit of red-rock Utah in Colorado that our crew will see today, however. Leaving the Monument they will head back east on I-70 to rejoin US 50 and backtrack a few miles to the south, to CO 141 and the Unaweep Tabeguache Scenic and Historic Byway. Along this road you'll pass through farmland, areas of wild rock formations, and ultimately to a stretch that you would swear was Utah, except that red-rock cliffs don't stop at the state line and this is still Colorado. Who knew? Additionally, one of the more interesting historical sights is the hanging flume, an old water channel built onto the sheer-rock cliffs. This is one of those things you'll look at and wonder "How in the world did they do that?"
For a while after leaving the river this route crosses some high prairie and you'll probably make some pretty good time. A little east of Naturita you leave CO 141 and pick up CO 145 to Norwood and Placerville. After passing through Placerville you start going up and what you're really doing is coming around the back side of the mountains that enclose Telluride. Telluride itself is not actually on CO 145, so you have to take the county road about 5 miles to the town. Do. The setting for this little mountain town is simply awesome. And if you have the time, take the free gondola up to get a good look from above.
Heading south from Telluride, the next pass is Lizard Head Pass. Off to your right, high up on the ridge, you'll see the rock formation that gave it the name. From there it's down hill, down the valley, on to Cortez, where today's ride ends.
Alternate Route
I have just one suggestion for this day, and it really only works when you consider the route the remainder of this trip will be taking. This is Day 4 and on Day 5, Steve and crew are heading over into Utah. When they return to Colorado on Day 7 there is not a lot on the agenda as they head for a night in the Eagle/Vail area. It might make good sense to skip Colorado National Monument on Day 4 and swing through there on Day 7, starting at the Fruita end and coming out at Grand Junction. Then on Day 4 you would just come north to the turn-off to CO 141 and the Unaweep highway. That would trim about 50 miles and at least an hour and a half off an otherwise long day, and add more interest to Day 7. Just a thought.,