Monday, May 30th, 2011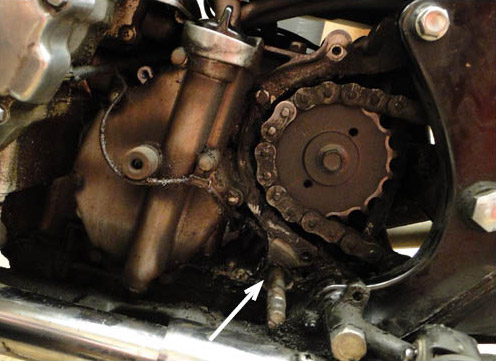 I know they were just letting me nibble at the bait, considering taking a big bite, when they'll set the hook.
They, in this case, are the guys at the DOHC Customs forum, a web forum for owners–like me–of old Honda CBs, primarily of the Custom variety. That is, my bike is a CB750 Custom and there are also CB900 Customs, CB1000 Customs, as well as CB750K models and others.
A big part of the focus of this forum is helping owners keep their aging beasts alive. I had joined the forum in 2008 but had not been active.
I noticed recently that there was a good bit of oil collecting on the lower extremities of the bike, right around the centerstand area. Thinking I might be low on oil due to the leak, I checked it. Dang! It was way overfull! Did I top it off recently? Or did the shop overfill it the last time I had it in for work? I have no idea.
But the question I now had was, is all this leakage an indication of a blown seal? So I went to the forum to ask that question, and I also asked if it was something I could easily fix on my own. I'm not much of a mechanic but as broke as I am these days I wanted to avoid taking it to the shop if I could.
The answers from the forum were yes and yes. I was told it was most likely to be the shift shaft seal, which I have indicated in that photo above. That rod coming out right there is what the gear shift lever is attached to, which I had removed before the picture was taken. The seal is slipped over the shaft and pressed into place there in the engine body.
I plunged right in but quickly started catching all kinds of crap. It turns out I had not sufficiently boned up on forum etiquette and proceeded to annoy several of the guys, who didn't hesitate to express their displeasure. The discussion was a little tense for awhile but I was properly contrite and we got past that.
The repair job was indeed pretty simple, although there were a few things I had to figure out on my own. And I did. I've worked as a tech writer and I know how people who know their subject really well can often skip over steps they take for granted, not realizing the uninitiated just don't know these things, and therefore find a disconnect between steps.
So for the $6.43 the seal cost me I fixed my bike. And I learned a bunch, too. I wouldn't object to learning how to work on my bike. I sure hate what I've had to pay over the years to keep this bike running. I know the guys on the forum are just waiting for me to take a bigger bite on this bait.
Recent from National Motorcycle Examiner
Allstate will install caution signs for motorists to look for motorcycles
Biker Quote for Today
It ain't broke 'til you can't fix it anymore.