Saturday, November 28th, 2009
I've been thinking lately about motorcycle museums, ever since it was brought back to my attention that there is one such place in downtown Denver that I have never been to. So I thought it might be interesting to put together a list of all the motorcycle museums around the country.
A quick Google search showed me that there are one heck of a lot of these museums. Not all of these are specifically motorcycle museums; some are transportation museums that naturally include motorcycles. After pooling lists from various websites, removing duplicates, and visiting numerous sites to see if some questionable ones should be included, I came up with 78 of them. I'm sure if I did a more thorough search I could uncover a few more.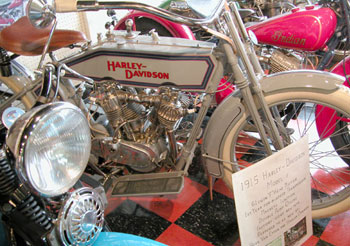 Concluding that I didn't want to just post a huge list here, I whittled it down to only those in Colorado and the adjoining states. That's essentially those you can get to in a day's ride. I also included South Dakota in the list because the Rapid City/Sturgis area is also within a day's ride and they have several. Then it turned out that while some of these states are close, the museums themselves are at the far end. Oh well.
So here's what I came up with, and the way I figure it, you may not want to make the trip just to see these places but if you're on the road anyway, and going near any of these, you might plan to make a stop. Rather than add a world of details on admission fees and hours of operation, I'll just provide the links and if you're interested I'd suggest you go to their sites for that info.
Colorado – 4
The Rocky Mountain Motorcycle Museum and Hall of Fame is in Colorado Springs, sitting right in front of Pikes Peak Harley-Davidson, at 5865 N. Nevada Ave. I've been to this one a couple times and it's a very interesting stop. Jerry Manka is the curator and he's a character. You definitely want to talk with Jerry while you're there. Indians and Harleys dominate but there are a variety of other bikes as well.
Vintage Motos, at 2762 Walnut in Denver, is the one I haven't been to yet. Their site says they have more than "190 Two Wheeled Wonders for Your Viewing Enjoyment!" They ask that you call ahead just to make sure someone is there when you arrive. The phone is 303-547-7389.
The Forney Transportation Museum at 4303 Brighton Blvd. is one of those I mentioned. The last time I visited the Forney Museum was at least 25 years ago, and they have moved since then, so I don't know what they have but their site does say motorcycles.
Then there's the Mathews Collection, which is the iffiest of them all. Located at 5889 Lamar Street in Arvada, their website shows a lot of really hot, fast cars, but just two motorcycles. If you like hot cars you may want to go to this place for the cars, with any bikes being icing on the cake.
Arizona – 1
The Buddy Stubbs Harley-Davidson Museum, in Phoenix, is just what the name implies. It's located in the Buddy Stubbs Harley-Davidson dealership, at 13850 North Cave Creek Road.
Nebraska – 1
There's no website for Chevyland U.S.A. – Auto and Cycle Museum, but it's located in the town of Elm Creek. Elm Creek is just north of I-80, a little west of Kearney. With no website it's hard to find out much about it.
Kansas – 3
Yesterdays Museum is located in the lower level of the Topeka Harley-Davidson dealership. Like the Buddy Stubbs museum, it showcases Harleys. It's located at 2047 SW Topeka Blvd.
The Kansas Motorcycle Museum is home to more than 100 vintage and rare motorcycles of all various makes and models. It is also one of two motorcycle museums in the small town of Marquette, in south-central Kansas. Go figure. This museum was originally built as a tribute to local racing great Stan Engdahl and has a lot of posters, photos, and memorabilia related to him. It's located at 120 North Washington in Marquette.
Just one block south of there is Steve's British Motorcycle Museum. This museum exhibits more than 40 British, BSA, and Triumph motorcycles and other memorabilia.
South Dakota – 4
The Freeman Heritage Hall Museum is located in Freeman, which is a little west of Sioux Falls. This is another that does not specialize in motorcycles but the website says they do have some. They're located at 748 S. Main Street in Freeman.
Motion Unlimited Museum is in Rapid City, at 6180 S. Hwy 79. They feature 100 motorcycles on display along with memorabilia, wall murals, gas pumps, and gas station memorabilia. Their special claim to fame is a Webley Vickers, which is said to be the only one in existence.
Pioneer Auto Show is a giant tourist attraction just off of I-90 featuring cars, motorcycles, tractors, "prairie town", and rocks. They have Elvis's old Harley. Murdo, SD, is the locale. That's right on I-90 in about the middle of the state.
Not surprisingly, Sturgis is home to the Sturgis Motorcycle Museum. Their website lists more than 100 bikes on display, plus a lot of memorabilia related to the Sturgis rally. You'll find the museum at 999 Main Street in Sturgis.
Oklahoma – 1
The Route 66 Vintage Iron Motorcycle Museum is in the town of Miami, in the far northeastern corner of the state. This place features more than 40 vintage bikes, including "The World Famous Steve McQueen Collection, Evel Knievel Memorabilia, 1950's style gas station, replica board track, one of the largest vintage motorcycle photo collections in the world, a huge one of a kind vintage helmet wall, and much more……" The museum is at 128 S. Main in Miami.
Recent from National Motorcycle Examiner
Basket-case motorcycle restoration: Tear-down and parts replacement
Biker Quote for Today
From the artistic viewpoint, it (the motorcycle) is three-dimensional: a composition of many elements of form, design, and aesthetics, always reflecting the time in which it is conceived and produced. — Richard Gaul