Monday, September 28th, 2015
I reported a little over a year ago that Guanella Pass was finally being paved all the way from Georgetown to Grant, and that it would take a year or more before it was completed. Now I'm back to report that the work, if not totally completed, is largely done and the road is asphalt the entire distance. If you've never ridden Guanella then you should now because you have no reason not to.
Especially at this time of year. It is absolutely gorgeous up there.
Judy and I did exactly that on Saturday. I had checked for reports on the construction work and found conflicting information. One report seemed to say that the intent was to leave the last two miles to Grant unpaved. Why? Is that really the case? I decided to take the V-Strom just in case.
Our intent was to go out I-70 to Georgetown and get off there to catch the Guanella Pass Road at Georgetown. What we did not count on was a huge traffic jam on I-70. We were coming back into town on Tuesday and saw westbound I-70 backed up for a long, long way but we figured it was an accident of something. Apparently not. Although there is road work in progress along the way to Idaho Springs, this was Saturday and there was no work going on at the time and there were no lane closures. Nevertheless, getting from Evergreen Parkway to Idaho Springs took about an hour. We would have done much better to have gone over Squaw Pass and down to Idaho Springs that way.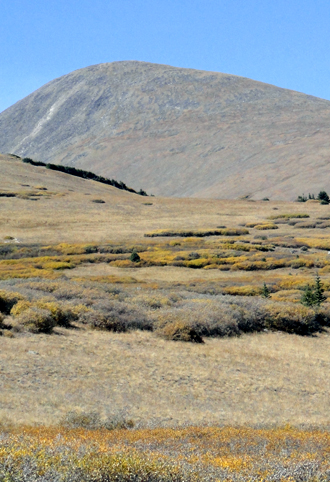 OK, so we finally got to Georgetown. Heading up the pass we knew the road was good because that portion was repaved a couple years ago. We thought there might be a lot of traffic because of people out viewing the aspens but that wasn't the case, maybe because the trees were mostly past their prime. Closer to the top, however, the autumn colors of the other vegetation was stunning. Here's an example (although the photo really doesn't do it justice).
Right at the top it was a total zoo. There are several hiking trailheads at the top and on such a glorious fall day, and a weekend day, the hikers were out in force.
We didn't stay on top for long, though. What we wanted to see was down the other side. And down we went. And down and down and down. The road is paved, it has a lot of serious landscaping with curb in some places, stonework where they made cuts on the sides of the road, and new fencing along the equestrian area you pass by.
Importantly, the last two miles have not been left gravel; it is paved all the way to Grant. So you know what this means: I'm going to need to create a page for Guanella Pass on the website, rather than just have the brief mention in the Dirt Roads and Side Trips page. That will probably have to wait until next spring so I'll have time to get up there and shoot a lot of photos and develop all the other information that goes on those pages.
But Guanella is now rideable, even if you hate gravel. Until the snow comes. It closes in the winter. Head on up sooner, rather than later.
Biker Quote for Today
The twisties, not the superslabs, separate the riders from the squids.