Thursday, February 26th, 2009
I attended my first ABATE meeting on Sunday. This would be ABATE of Colorado District 10. I had no real idea what the focus of the meeting might be, or even what it really means to be a member. But I figured it was time to learn.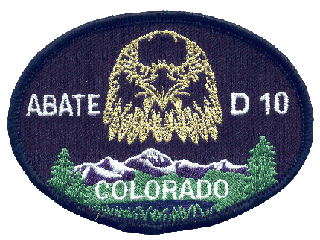 I've always been inclined to activism. Years ago I was a lot more interested in politics than I am today, so I didn't just vote, I was an active party member. Heck, I was even a precinct committeeman for a while.
Then I became disillusioned with the party and left it.
With motorcycling, my activist bent has developed more slowly but it has been a clear direction. Initially all I wanted to do was ride, either with my friends or by myself. But then an incident occurred that raised the issue of making helmets mandatory again and I felt I had to speak out.
I wrote a letter to the newspaper and it was printed. That prompted a local member of the American Motorcyclist Association (AMA) to contact me and send me a membership application. And I joined. I've been a member now for 16 years.
Being an AMA member made me a lot more aware of the legal issues arising and being addressed around the country and within my own sphere I became an advocate. You know advocacy is needed when you find that you have to explain to your own parents why insurance practices that discriminate against bikers are wrong.
I took the next step when I built the Passes and Canyons, Motorcycle Touring in Colorado website. For the first time I was moving beyond my own immediate circle, out into the broader world. Shortly after launching the site I added this blog. That provided me an impetus to not only attend events but to meet the people attending and the people putting them on in order to write about them with more authority.
One things leads to another, and through the blog I was contacted to write for Examiner.com as their Denver Motorcycle Examiner. I've always been a writer, and I used to be in the newspaper business, so this was like coming home. Being an Examiner opens more doors than just being a blogger and I've extended my scope to focus on more and more of the people and organizations that make up the local motorcycle community.
The more I wrote about ABATE's rider training program, and the group's efforts in the legislative arena, the more I came to ask myself why I was not a member.
So now I've joined. And my first impression is that I've only seen the tip of the iceberg. I look forward to seeing more, and to becoming a real part of it.
Biker Quote for Today
If you want to complain about the pace being set by the road captain, you better be prepared to lead the group yourself.