Tuesday, September 29th, 2009
The best thing about being the National Motorcycle Examiner for Examiner.com is the doors that are constantly opening for me because of it. One of the odder opportunities to come my way recently was the question, would I like to speak to singer/songwriter Andy Chase. And oh yeah, Andy is a motorcycle lover.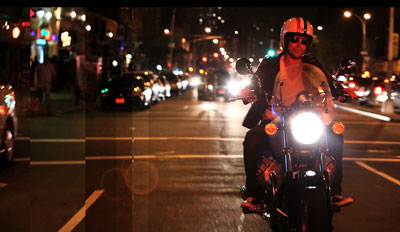 Mind you now, I'd never heard of Andy Chase, of Brookville, which is what he calls himself in his solo project, or Ivy, in which he is part of a threesome that includes the bassist from Fountains of Wayne. I thought it was pretty odd to get this email but, because music is another passion of mine, I figured what the heck. The worst I could do would be waste an hour of my time, and in the meantime, it might turn into something really interesting. Not to mention different. I like different.
So we ended up setting yesterday as the day to talk. The date is significant because Andy's latest Brookville release came out today and tonight he'll be in San Francisco playing the first gig in his tour to promote the new album.
Tracy, Andy's publicist, had suggested in her initial email that she'd be happy to "set up a time to chat with Andy Chase about his bikes, and how the lifestyle affects his art." OK, I figured, my first question to Andy would be along the lines of, "How does your lifestyle affect your art?" I mean, I'm a motorcycle guy, writing for an audience of motorcyclists. Make me care. Make my readers care.
Andy's short answer was simply, it doesn't. OK, think fast Ken, what do you ask now?
Fortunately I thought to ask him if there were any interesting and/or amusing stories to tell from the taping of his video for "Great Mistake," the first single from this album, "Broken Lights." Bingo. I was in the money. You can read his amusing tales of the shoot in the Examiner piece, "Talking motorcycles with Brookville's Andy Chase."
We talked about riding, too. Andy has a Ducati ST4S, a Moto Guzzi Stone, and a BMW 650 GS. The bike he's riding in the video is the Guzzi, but don't spend too much time watching the video to get a good look at. Andy told me they weren't sure if there would be issues using a recognizable bike in the video so they put the tape together with shots that make it nearly impossible to tell what he is in fact riding.
Although he grew up riding dirt bikes, Andy told me he has gotten into road riding primarily due to the traveling he has done with bands over the years. He's a New York kid and I guess he didn't see too much of the country. Once he started seeing the whole U.S. he wanted to see more, and started doing motorcycle touring so he could really see it. The Ducati is his tour bike of choice.
All in all, it was an interesting conversation and it gave me some good material. As a writer, good material is one of the best things you can have. Who knows. Maybe I'll start doubling as a music critic. I'm already getting emails from his publicist about other acts. Thank you Examiner for opening another door.
Recent from National Motorcycle Examiner
Model on-highway sound legislation drafted by AMA–if only cities will use it
Biker Quote for Today
Every time I start thinking the world is all bad, I see some people on motorcycles, it makes me take another look–Steve McQueen