Thursday, May 11th, 2017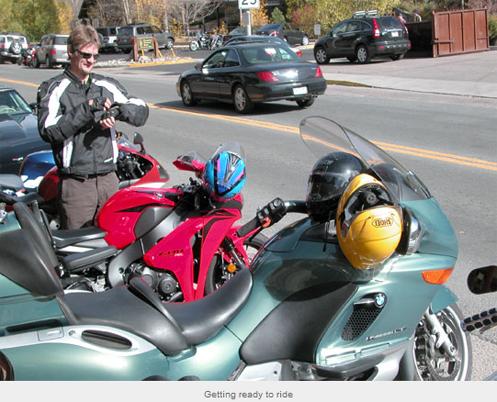 Can ABATE achieve significant gains in reaching out to sportbikers? From what I've seen, it remains a daunting task. TwoColorShoe (SBN) cautioned me about painting too rosy a picture.
I can tell that you're going to try to spin the article towards a positive light in the end; speaking about how even though some may not agree with ABATE's confusing position on helmet use sportbikers/cruisers/etc. can still all get along and support a group that is really just trying to fight for our rights. I do not think it's a very realistic position. — TwoColorShoe (SBN)
Rather than try to forsee the future, I will list the changes or actions that these sportbikers say that ABATE would have to make if they are to succeed. "SBN" identifies the speaker as coming from The Sportbike Network, and "CSC" identifies them as coming from the Colorado Sportbike Club. (I was informed this group prefers CSC to the CSBC that I was using previously.)
Without a real change in policy through ABATE, by being much more safety conscious and by trying to appeal to the younger sport bike crowd, only then will people start to recognize the organization's real worth. Right now, it doesn't seem like there is much appeal. If ABATE doesn't change, then the ever growing idea of safety consciousness through the motorcycling world will only keep more people away. They need to really change some stuff, and if they don't, there's a good chance they'll just die out and another pro-motorcycling organization will take their place. — TwoColorShoe (SBN)

ABATE is better than nothing, but…

They need to align the membership on their stance regarding helmet use.
They need to align the membership on how to interact with other riders.
Increase exposure to what they do, other than fight helmet laws.

Getting sportbike riders to buy into ABATE's agenda means welcoming sportbike riders and possibly changing the agenda to include the beliefs of sportbike riders. Right now that just isn't happening. — bimmerx2 (SBN)

If they want to garner support from the sportbike community, they need to broaden their advocacy to include other issues like punitive insurance rates for sportbikes, and police profiling of sportbike riders. — TFOGGuys (CSC)

ABATE needs a PR makeover. Sponsoring an MRA rider is one step. So will support for local sportbike events. The only things I've seen are ABATE patches on leather jackets and their name attached to poker runs and cruiser events. That could be part of the perception problem. — asp 125 (CSC)

That's my one minor quibble with ABATE. While they push AGATT in class, they often don't "walk the walk" and personally set a good example to the new riders who should be coaxed and reminded every second they're around experienced riders to wear gear. — Wintermute (CSC)

I took, what I seem to remember was, an ABATE class last year and the instruction itself benefitted me greatly. What helped just the fact that I had a chance to practice pretty much any type of maneuvers on a closed course while someone watched with a critical eye. That said, I am very interested in seeing a more sportbike oriented version of the class that features more advanced & real world-type situations. I felt the class was more cruiser oriented, but even more disappointingly, it was merely a reproduction of the original class I took to achieve my endorsement, with the exception of my being allowed to use my own bike. — MetaLord 9 (CSC)

When you look at the "majority" of Sportbike riders (not just on this forum) most of them are younger (18-30) and not interested in being active participants in the legislative process. Take a look at the "majority" of cruiser riders, they are mostly above 30+. — Zuhalter Vati (CSC)

All the more reason for ABATE to get involved. If rider apathy means anti-sportbike laws get passed unopposed, the presence of an organization to give some voice might be a good thing. — asp 125 in response to Zuhalter Vati (CSC)

Show me that you are lobbying to allow lane splitting in all fifty states, or in FL for that matter. I'll cut you guys a check today. — Jim Moore (SBN)

I like that ABATE does charity work and have participated in one of their charity rides for a friend's father. He was killed during a poker run by an ambulance that ran a red light. We went from bar to bar on the charity ride. Not really my crowd. As previously expressed, if they started actively advocating for lane splitting, then I may be interested in membership but I don't see enough from them right now. — cbartz (SBN)

I'll refer back to my previous post – ABATE itself is nothing but a name, the organization is made up of real live breathing human beings. It is how those human beings act that defines the true beliefs of the group. So, the policies of ABATE are meaningless unless the people who make up the group actually believe in and support those policies. The fact that ABATE has such a well defined reputation as helmet haters (not helmet law haters) means they have a lot of members who are not aligned with the stated goals. Let's face it, those are pictures of helmets being roasted, not a book of helmet laws. — bimmerx2 (SBN)
Where do things go from here? The ABATEs are not one organization, but a collection of separate organizations. Some may be willing to make the efforts that will be needed to draw in sportbikers as members. Others may conclude that the division on helmets is too wide to bridge, not to mention a position they have no intention of changing. Who knows, perhaps an especially egregious assault on motorcyclist rights will force the two groups together despite their differences. Politics often makes for strange bedfellows.
I will remain an interested observer and will report back with updates as this dynamic evolves. The one thing I am confident of is that only time and hard work will significantly alter this status quo.
Update: After I published this series, Terry Howard, at that time the ABATE of Colorado state coordinator, initiated a conversation with members of one of the Colorado sportbike organizations whose members had expressed conciliatory views and the two groups started working cooperatively for the benefit of all motorcyclists in Colorado. Sadly, some ABATE members were not happy about this new direction. Since Terry's departure the two groups have gone their separate ways.
Biker Quote for Today
Some call it a tunnel; bikers call it a concert hall.