Monday, February 12th, 2018
This came in my email the other day.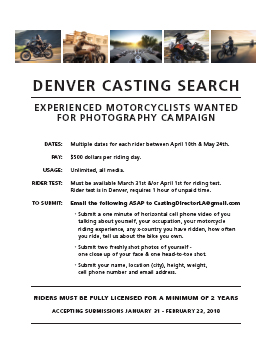 DENVER CASTING SEARCH
EXPERIENCED MOTORCYCLISTS WANTED
FOR PHOTOGRAPHY CAMPAIGN
DATES: Multiple dates for each rider between April 10th & May 24th.
PAY: $500 dollars per riding day.
USAGE: Unlimited, all media.
RIDER TEST: Must be available March 31st &/or April 1st for riding test.
Rider test is in Denver, requires 1 hour of unpaid time.
TO SUBMIT: Email the following ASAP to CastingDirectorLA@gmail.com
• Submit a one minute of horizontal cell phone video of you
talking about yourself, your occupation, your motorcycle
riding experience, any x-country you have ridden, how often
you ride, tell us about the bike you own.
• Submit two freshly shot photos of yourself –
one close up of your face & one head-to-toe shot.
• Submit your name, location (city), height, weight,
cell phone number and email address.
RIDERS MUST BE FULLY LICENSED FOR A MINIMUM OF 2 YEARS
ACCEPTING SUBMISSIONS JANUARY 31 – FEBRUARY 23, 2018
That's all pretty self-explanatory. If you're interested you need to submit your letter of interest by February 23. Could be fun. Could be long, hard days. But what the heck, it's something different and if you actually get selected the pay looks pretty good. You can bet I'll send my submission. Why wouldn't I?
Biker Quote for Today
Motorcycles: Helping guys pick up chicks since 1907.