Thursday, August 17th, 2017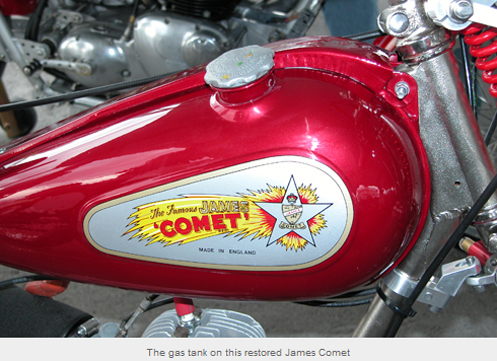 Working at Bonneville Speedway last year was a real kick for James Moore, of Manningtree, Essex, UK, but he was only able to watch, not participate. This year was going to be different.
Before heading for the States again this year James looked around for a motorcycle to take to Bonneville. He found it in pieces, a 1952 James Comet. It was a basket case. No problem.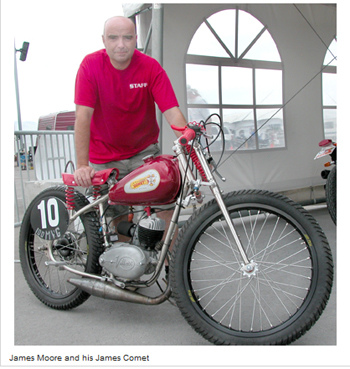 He sand-blasted the frame and then nickel-plated it. A friend spray-painted the tank. He found copies of the original decals and put them on. Then he shipped it in pieces to Bonneville, where he was again hired as staff. In his off time he put it all together.
When the time came for time-trials the Comet was ready, sort of. James entered it in the 100cc Vintage Modified Gasoline class and went out and set a world record. His speed: 35.926 miles per hour, give or take a few thousandths. And he never could get the bike into second gear.
OK, 36 mph is not exactly scorching, although the bike's top speed at sea level is supposed to be 40 mph. But this was in first gear. James says he would put it in second and it would pop out so he just jammed it back in first and ran the mile. James plans to run the bike in November he'll run it at the raceway at El Mirage dry lake bed, and, with second gear working, hopes to break that early record.
Following the time trials, James had his Comet on display at Saturday's Concours d'Elegance at the Bonneville Vintage GP and Concours, at Miller Motorsports Park.
Obviously, the 100cc Vintage Modified Gasoline class is not a high-powered–or high-speed–racing class, or the most hotly contested. But when was the last time you took a basket-case motorcycle and turned it into a world-record holder?
Biker Quote for Today
Why bikes are better than women: Your motorcycle doesn't get upset when you forget its birthday.