Monday, August 14th, 2017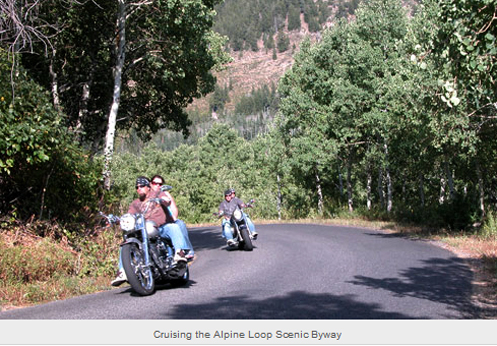 I go out of my way for terrific motorcycle roads and coming home from Tooele, UT, last week was no exception. I wanted to revisit American Fork Canyon and the Alpine Loop Scenic Byway, which provide a great alternative route to Heber City and U.S. 40, which was my road back to Denver.
I've been this way before more than once. The OFMC discovered this road years ago thanks to a tip from a local and we ride it whenever we can. If you're out in the Salt Lake City area you should make a point of riding it, too.
Fortunately, in the farflung reaches of the Salt Lake City metro area, the American Fork Canyon is easy to find, provided you know it exists. From I-15, exit east onto Utah 92 just south of Point of the Mountain and follow this road arrow straight to the cleft in the rock that is the mouth of the canyon. Then kiss the city good-bye, there's none of that ahead.
You'll quickly reach an entrance station for Timpanogos Cave National Monument but if you're only passing through there is no fee. Should you pay the $6 fee and visit the monument? I have to admit we never have, but here's what the official website says about the place.
Timpanogos Cave National Monument sits high in the Wasatch Mountains. The cave system consists of three spectacularly decorated caverns. Helictites and anthodites are just a few of the many dazzling formations to be found in the many chambers. As visitors climb to the cave entrance, on a hike gaining over 1,000 ft in elevation, they are offered incredible views of American Fork Canyon.
Make your way through the canyon, which is pretty spectacular in its own right, and then bear right to head on up the Alpine Loop Scenic Byway. This is a winding, twisting, amazingly narrow strip of asphalt that loops up to Alpine Summit and then on down past Sundance Ski Resort. It hits U.S. 189 running through Provo Canyon and a left will take you up to Heber City and U.S. 40, or a right takes you down into Provo.
Biker Quote for Today
God makes the lightning, bikers make the thunder.