Tuesday, November 29th, 2011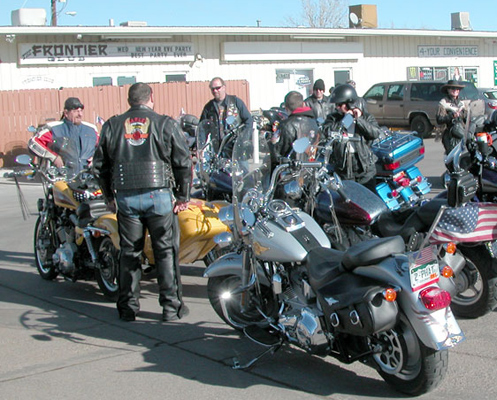 It's almost December but that doesn't mean the organized motorcycle rides are over for the year. There are at least three that I know of and I'm definitely not all-knowing.
Two of these are toy runs, to collect gifts for kids who otherwise wouldn't have much of a Christmas. The other is ABATE's Last Brass Monkey Run.
This Sunday coming right up is when Rocky Mountain Harley-Davidson will be sponsoring its 26th Annual Toy Run, which collects gifts for kids at Children's Hospital. The ride starts out in Aurora, at Aurora Sports Park, 18601 Sports Park Drive. Registration is one new, unwrapped toy.
Then, two Sundays later, the Sleigh Riders Motorcycle Toy Run will be held to benefit the Santa Cops program of Weld County. Again, registration is one new, unwrapped toy. The gathering place is in Greeley, at Maui Wowi of Greeley, 2939 65th Ave.
ABATE of Colorado's Last Brass Monkey Run is scheduled each year to be the last ride of the year. Thanks to the calendar, this year's run will actually be on Dec. 31, a Saturday. There are two starting points, on the west side and the east side of the metro area, with the destination being the Grizzly Rose, at 58th and I-25. West siders will be gathering at Wrigley's, in Golden, at 18200 W. Colfax. On the east side, the Pioneer Club is the spot, 18881 E. Colfax. The event offers food, games, a chili cook-off, door prizes, and live music. Riders will start leaving at 10 a.m. and the party gears up at the Grizzly Rose at noon.
So don't even think about putting that bike away for the winter. There's plenty of good riding to be done in the next few months.
Recent from National Motorcycle Examiner
Helmet cams let you relive the ride
Biker Quote for Today
My goal is to see how many gallons of dead dinosaurs I can send through my bike.