Monday, August 31st, 2009
The coolest thing about building a career as a motorcycle journalist is getting to go to a lot of terrific events. I'll be heading out on Thursday to cover the 4th annual Bonneville Vintage GP and Concours, in Tooele, UT, Sept. 4-6. Of course I'll be telling you all about it.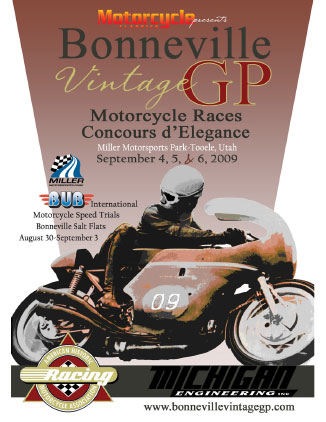 So what exactly is this event? I'm still learning about it myself but I'll tell you what I think I've figured out so far. It seems to be in essentially three parts, vintage motorcycle racing, sidecar racing, and a vintage motorcycle show.
The American Historic Racing Motorcycle Association (AHRMA) is sponsoring the race events. Motorcycle Classics magazine is sponsoring the show.
There will be a two-stage "Battle of the CB-160s," featuring two-time World Superbike Champion Doug Polen. Polen also offers a racing school on Friday. Saturday and Sunday, the two main days, will both feature a "Vintage and Legend Bikes Parade Laps" event, after which the day's racing begins. The vintage bike show is on Saturday.
The location for all this will be Miller Motorsports Park, just outside of Tooele. That means it's about 30 miles from downtown Salt Lake City. The venue is billed as "the newest world class racetrack – the largest in North America – that will very soon . . . also be legendary."
Beyond that, I can't tell you much – yet. Stay tuned.
Recent from National Motorcycle Examiner
Demo riding the Harley-Davidson Screamin' Eagle Ultra Classic
Biker Quote for Today
My theory, you only get one chance, go full fucking throttle, all the way, all the time.