Thursday, May 28th, 2009
I have a proposition for you. How about if you do some work and I'll take possession of it, for no fee. Of course, I'll let you use it, as long as you meet my terms. I may revoke your right, however.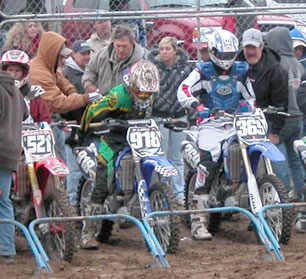 That, in a nutshell is what you have to agree to if you want a press pass to the AMA Nationals.
Every year out at Thunder Valley Motocross Park here in the Denver area they hold one of the races that make up the AMA Motocross Championships. This year the event is set for June 27. I figured I'd go and take advantage of my press affiliation to get in free and get some preferential treatment in doing my coverage.
I contacted the appropriate people and they sent along the 2009 Pro Motocross Media Guidelines, complete with a waiver for me to sign and return to them. Sure this is just standard stuff and if you want to play you have to play by their rules, but I read what I was about to sign anyway.
Holy smokes! Read this:
Media Members agree and hereby do assign to MX Sports and its affiliates (collectively, "MX Sports Entities"), all copyrights in any or all still or motion picture . . . or any other form of media captured . . . MX Sports hereby grant to Media Member a royalty-free, non-exclusive, limited, revocable license ("Licensee") to use the Works, illustrating, describing, relating to, or referring to the Event(s) for editorial purposes only.
Oh, thank you so much for allowing me to use my own pictures for free.
I'm still going to go to the races, but I'm not sending in the press credentials form. I'll pay my way in and I'll jostle with the crowds to get the best coverage I can. But I'll own my own work.
Recent from the National Motorcycle Examiner
An experienced motorcyclist's lessons in humility
Biker Quote for Today
Well, sister, the time has come for me to ride hard and fast. – Rooster Cogburn