Tuesday, March 29th, 2011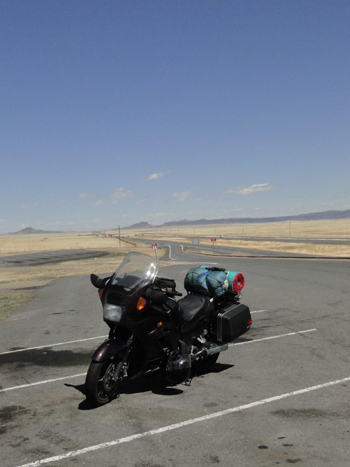 The weather allowed me to ride to Scottsdale for Arizona Bike Week. Barely.
Sunday morning dawned warm and sunny–the weather gods were smiling. Apparently they were smiling because they knew the trick they were playing on me.
After writing about how I hoped I could keep my hands warm on this trip I got an email from Mike Landon suggesting that I get some of those thin, neoprene gloves that doctors and dentists use, and wear them under my regular motorcycle gloves. Like a "second skin" he said.
I also found that the glove liners I use for skiing would fit inside my motorcycle gloves–which themselves are Thinsulate-lined–so I had hopes that one or the other approach would suffice. Then for insurance I went to a sporting goods store and bought some chemical handwarmers to tuck inside the gloves if need be.
Always eager to experiment, I left home with one glove liner on, one mylar glove on, and not using the handwarmers for now. Twenty miles later, at Castle Rock, it was clear my fingers were getting cold on both hands equally. Then I hit nasty weather going over the Palmer Divide, with fog and light mist. Cars coming the other way had snow on them. Yikes!
I got to the south end of Colorado Springs and had to stop. My hands were in serious pain. While nursing my hot chocolate and getting warm at a convenience store I asked everyone who came in what they knew about the weather further south. The consensus was that I should be OK heading that direction. And when I was ready to leave I slipped a couple of those chemical handwarmers in my gloves, using both glove liners this time.
My take on using the mylar gloves is that they really did seem to do as well as the glove liners, which definitely counts. The ladies at my dentist's office who had given them to me had mentioned that as your hands sweated the moisture would collect inside them and they were right, so I figured that since I had the glove liners it would be better to use them. Without the liners I would definitely have used the mylar gloves and been glad to have them.
The weather did improve as I continued south and my hands stayed comfortably warm. It must have been pretty cold as the pads never did feel particularly warm. Apparently every bit of heat they were giving off was needed. Stopping later and putting my gloves back on they seemed quite warm.
I paid $1.49 a pair for these chemical warmers at a sporting goods store but I'm told you can get them in bulk at WalMart for 50 cents a pair. And they're supposed to be good for 7 hours of heat but after 9 hours these were still pumping it out. In other words, I will always have some of these tucked in my tank bag from now on. They're a lifesaver.
So to make a long story short, I rode 530 miles Sunday to Grants, NM, and then on to Scottsdale the next day. That photo is of my bike at a rest stop along the highway in New Mexico. I'm ready for Bike Week to get revved up but right now I'm at a local Kawasaki dealership. Seems those tires I thought had enough rubber on them to get me here and home again were only up for half of that ride.
Recent from National Motorcycle Examiner
I'm here for the party–where is it?
Biker Quote for Today
"Adventure" is "Trouble" in the past tense.