Thursday, January 28th, 2010
Imagine if you had a large network of contacts all around the country, so you could travel on your motorcycle and have a place to stay the night pretty much everywhere you went.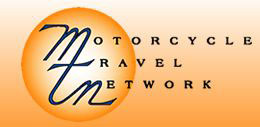 Well, you can. I don't know why I only just learned about this but that's exactly what the Motorcycle Travel Network (MTN) is all about.Through a membership in the MTN you have the ability to locate people where you're headed and arrange to stay at their homes, rather than getting a motel. You also can provide accommodations for other motorcycle travelers and receive a small compensation for putting them up at your own home.
Of course, the best part of this has to be that you get to meet and make friends with other people who share your interests. I'm very interested in learning more about this, and when I do I'll pass along what I've learned.
The way it works is that you pay $30 a year to join for one year, or $45 for two years, or $90 for five years. Then when you stay at someone's home you pay them a gratuity of $15 for one person per day, or $20 for two people per day.
Here's a bit of what the MTN has to say on its site.
The goal of MTN is for motorcycle enthusiasts to share their knowledge, experiences and stories with each other in a warm friendly and comfortable environment, namely, in a member's home. We want to help insure that as you travel you will be staying with people that share your enthusiasm for motorcycles and travel. When you stay with MTN hosts you will be staying with "local experts" on where to ride, where to eat, sites to see or where to get mechanical service. Likewise you will be staying with someone who is interested in hearing about your riding adventures, and sharing their own.
They seem to have this thing pretty well worked out; check the site for a lot of info on how it all works. And if you have any experience with this network I'd love to have your comments. Thanks.
Recent from National Motorcycle Examiner
Victory Motorcycles offers road trip for 10
Biker Quote for Today
I would rather wake up in the middle of nowhere than in any city on earth. — Steve McQueen