Thursday, June 28th, 2012
A lot of Colorado is in flames. Obviously the impact that has on motorcycle riders and motorcycle events is nothing compared to the impact on the people who have lost their homes but that impact does bear mention. Fact is, I got an email the other day while I was up in Eagle from a rider who asked me to provide some info about the fires because, "We are set to head to South Fork, CO, and are concerned about the current wildfires!"
So I'm going to try to pull together some information here that is reasonably current.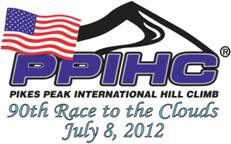 First off, however, is this. I just received an email from the organizers of the Pikes Peak International Hill Climb (PPIHC) announcing that this event, scheduled for July 8, has been indefinitely postponed. Of course, the worst fire raging at this point is the Waldo Canyon Fire down by Colorado Springs, so this should not be too much of a surprise to anyone. No new date has yet been set but they say the PPIHC will be run at some point yet this summer.
So what about the fires? Here's what I can find.
Durango area–There is a fire northwest of Durango, the Lightner Creek Fire, but traffic along U.S. 160 and U.S. 550 should not be affected. Further west, near Mesa Verde, the Escarpment Fire is about 75 acres on the Ute reservation. That does not appear to be causing problems on the highway. A little further west, near Mancos, the Weber Fire is at about 10,000 acres but only impacted travel on the county road heading south out of town.
Pagosa Springs area–The Little Sand Fire 13 miles northwest of Pagosa has burned 22,000 acres and is 29 percent contained. It is not near any of the main roads and should not be an issue for travelers.
Leadville area–The Treasure Fire started up near Leadville on Sunday, along the Fremont Pass route to Leadville from Copper Mountain. I was in Leadville on Monday and didn't even see any smoke but apparently this fire is still burning. Traffic was moving normally.
Boulder area–The Flagstaff Fire is burning behind the Flatirons. That could create problems if you want to use Flagstaff Road or other roads back there but otherwise should not be a problem. However, up on the hill at the National Center for Atmospheric Research there is some danger as the fire moves rapidly in that direction.
Fort Collins area–The High Park Fire continues to blaze and to spread but is gradually coming under control. Firefighters are projecting complete containment by July 15. This fire can have some real impact for riders. The Poudre Canyon–CO 114–should be avoided. Also, the road up past Masonville and over through Stove Prairie will not be open. Stove Prairie has been hit especially hard. The same with Rist Canyon, coming into the hills out of Fort Collins.
That seems to about cover it for now. But as dry as it has been, and as many beetle-killed trees as there are up in the mountains, it's a safe assumption that there will be more fires yet this summer. It's just going to be a matter of staying on top of what's happening and planning your trips accordingly.
Recent from National Motorcycle Examiner
STAR 2012 kicks off
Biker Quote for Today
Talk less, ride more.