Monday, June 29th, 2009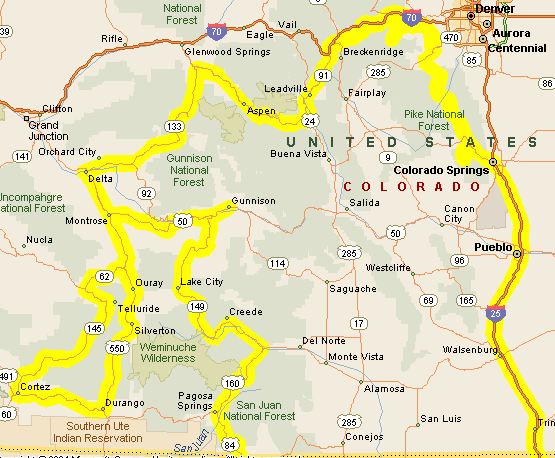 I'm frequently asked to help people plan their routes when they're coming to Colorado to ride, and I'm always happy to oblige.
Last year I posted a series I called "New Zealand Rides The Rockies" where I laid out the day by day rides of a group on New Zealanders planning to come here this year. Unfortunately, the world economic meltdown derailed their plans, at least for now.
However, if you don't have to fly halfway around the world and you don't have to rent motorcycles, coming to Colorado to ride is actually one of the less expensive vacations you can take. I can confirm that a good number of people are doing just that.
Among them are Ray and some of his friends from Texas, who are cruising around Colorado right this moment, presuming they didn't have any last minute glitches. I'm not going to lay this out in the detail I did for the Kiwis but I figured you might have some interest in their plans.
Days One and Two
Ray and friends are coming from the Dallas-Ft. Worth area (I believe) and were riding to Las Vegas, NM, the first night. From there, on Day Two, they were planning to head north to Taos and on up to where they would reach U.S. 160 at Fort Garland. They planned on taking U.S. 160 west to South Fork, then CO 149 over Slumgullion Pass to Lake City, and then the gravel roads over to just south of Ouray. Ridgway was their destination for the night.
These plans were revised considerably when I pointed out to Ray that it would be a much nicer ride to take U.S. 64 west from just north of Taos, via Chama, and then U.S. 84 up to Pagosa Springs. From Pagosa, a run over Wolf Creek Pass would put them at South Fork. I also mentioned that they must be riding dual sport bikes if they were planning on taking that road west out of Lake City.
Apparently they aren't, so that road was nixed. Instead, they adopted my suggestion of the Chama route and then just continued on through Lake City to Gunnison for the night.
Day Three
Day Three was to be a fairly easy one after a long Day Two. Heading west out of Gunnison they planned to stop at Black Canyon of the Gunnison National Park and ride the South Rim Drive and the East Portal Road. Then they would make the easy cruise to Ouray and make that their headquarters for two nights.
Day Four
Day Four is planned as a circle route through Ridgway, Placerville, Telluride, Cortez, Durango, Silverton, and back to Ouray. This will take them over Lizard Head Pass and Red Mountain Pass. Red Mountain Pass, of course, is one of the best in the state.
Day Five
On Day Five, Ray and friends are heading north through Montrose and Delta and will then head northeast on CO 92 to Hotchkiss and up and over McClure Pass on CO 133. At Carbondale they will turn southeast on CO 82 through Aspen and over Independence Pass, another of Colorado's very best.
A run through Leadville and then down Fremont Pass to Copper Mountain will put them at I-70, where they will head east to Silverthorne. They'll take U.S. 6 up over Loveland Pass and end up for the night in Idaho Springs.
Day Six
From Idaho Springs our travelers will head south on CO 103 up Squaw Pass with a sidetrip to the top of Mount Evans. From the Bergen Park area they'll head south to Evergreen and on to Conifer where they'll pick up U.S. 285 for just a short jaunt. At Pine Junction they'll head south on CO 126 through Deckers and on to Woodland Park and Colorado Springs.
Days Seven and Eight
In the morning of Day Seven, Ray and the rest will make a run up to the top of Pikes Peak, then head back down and blast homeward as far as Amarillo. Day Eight will see them home again in the Dallas area.
Recent from National Motorcycle Examiner
10th Annual V2V: Victory riders ride Victory Highway
Biker Quote for Today
Fun is not a straight line.