Monday, August 30th, 2010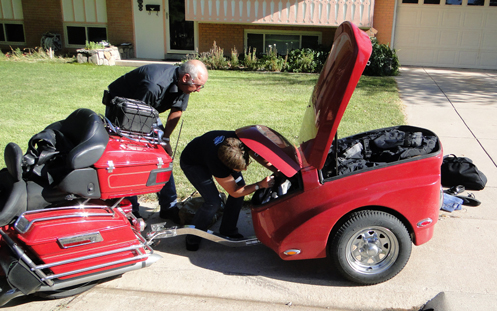 Camping on a motorcycle trip is a good way to go but if you're riding two-up you might as well forget it. If you manage to get all of two people's camping gear on the bike you're not going to have room left for much else.
Unless you pull a trailer. Then it's whole new ball game.
Ken and Janet Knox are motorcycle travelers who stayed with us recently, via the Motorcycle Travel Network, and behind their Ultra Classic they pull a trailer. It was custom-painted to match the bike and the pair look great together.
Asked about it, Janet initially responded that, "The only advantage for me is that I can pack more stuff."
Ken made the point, however, that it enables them to carry camping gear with them. Of course, he points out, "If Janet would bet her license and ride her own bike we could camp without pulling a trailer."
"That would mean work for me, and I'm not into working," she retorted. "I'm on holiday."
Turning serious, she continued that she likes that, "When we camp we pull in at 3-4 p.m. and look for a site, then interact with people. We meet more people that way. That aspect is nice, although the comforts of a motel are better."
Ken added that "Campgrounds are generally in a beautiful spot, whereas motels are on the main drag."
Still, if they get into town later, or if it is raining or looks like rain, they're not likely to camp. But it's nice to have the option.
As for how the trailer affects the ride, Ken said, "You don't even know the trailer is there. It does increase gas consumption, and on long, steep uphills you have to upgear, at least on a Harley."
There's one other advantage: Their trailer has a 12-volt plug so they can charge their cell phones while riding. Hey, what else do you need?
Recent from National Motorcycle Examiner
Full Throttle Saloon: Building for bikers in a big way
Biker Quote for Today
You're a biker wannabe if your longest road trip this year was to Hooter's for bike night.