Thursday, April 30th, 2009
Billed as a redefinition of motorcycle sport-touring, the Motomarathon Association will hold its inaugural event in Colorado June 12-15.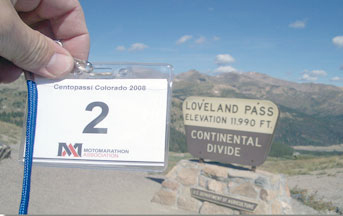 The Motomarathon concept is to ride "as many twisties as possible, over four full days. Routes are kept secret until the night before each event. Through a series of self- recorded check points, riders verify completion at the end of each day's ride. This endurance ride promises to be a pass-bagging extravaganza with the best elevation-changing, rip-roaring twisties the central Colorado Rockies have to offer."
John Metzger, of Boulder, used the Iron Butt Rally as a starting point in devising what he hopes will catch on as a new sport. He says he "soon realized that fatigue-riddled riding at high speed at night in a straight line on Interstates wasn't my cup of tea. For me, it was all about making turns." Just this year, the Motomarathon Association was formed.
Additional events are currently being developed and the association will post standings among the riders and a champion will be designated at the end of the season. The association currently has 19 members signed up, including Metzger and moto-journalist Brian Catterson.
Riders will be mounted on Ducati's Multistrada, Hypermotard, and Monster bikes and Ducati is a sponsor of the event.
Describing the event, the association's website says:
The Motomarathon Association's goal is to establish a series of organized rides with the most challenging routes in the nation and around the world, giving members the chance to share the camaraderie surrounding the best experience in motorcycle sport-touring. Members are encouraged to chase points by participating and finishing in as many events as they can over an annual season. An overall championship will be awarded each year to individuals, and will eventually include teams.

Though some Motomarathons can be elaborate affairs with hotels, meals, support vehicles, mechanical assistance, celebrity bikers and umbrella girls included with additional fees, the basic philosophy is to make each event as automated and self-regulated as possible. The Colorado Motomarathon, for example, requires only that riders join the Motomarathon Association, pay an event fee of $75, have their own bike/gear/camera, make their own hotel arrangements, take care of their own meals, carry their own tools and luggage, and rely on themselves or the kindness of others if they get lost or run into mechanical problems.
The association is encouraging its members to develop their own ideas for events and will consider those submitted. Ultimately they hope to have half a dozen events set up around the country. The second event now being planned is Centopassi Colorado, a motomarathon scheduled for September 11-14, 2009, that is expected to include routes into Southern Colorado and Northern New Mexico.
Biker Quote for Today
Ride hard or stay home.