Tuesday, June 29th, 2010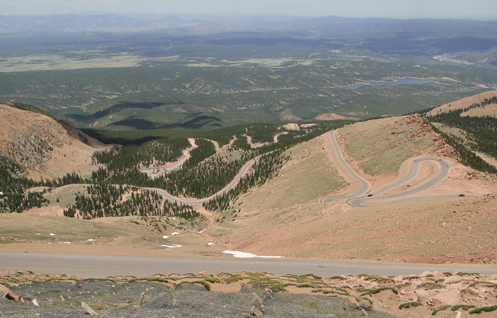 I have a recollection that I may have been up on Pikes Peak about 35 years ago. Otherwise, I know I was up there 50 years ago. Suffice it to say, when I rode my Concours up to the top on Friday it may as well have been the first time. Oh my god, what a road!
Last week was race week for the Pikes Peak International Hill Climb, a race with cars, trucks, motorcycles, quads, sidecars, and a few divisions that have peculiar names because, well, probably because no one knows what to call that vehicle. Tuesday was sign-in and tech inspection, followed by three days of practice, and then Saturday was free before the race on Sunday.
I ran down to Colorado Springs on Tuesday to meet up with the racers I had made contact with via the Adventure Riders forum, and to get my press credentials. I went down again on Friday to talk to my contacts about their experiences in practice and hopes for the race, and to go to the top of the mountain myself. Then Sunday I went down one more time for the race.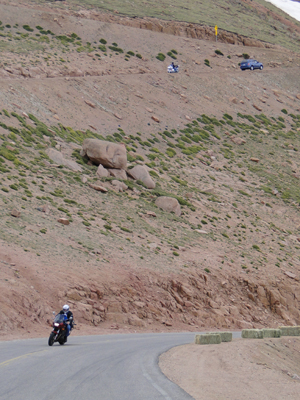 Let me tell you, you have to ride that mountain yourself to really understand how incredible it is what these racers do. From the starting line to the top is 12.2 miles, and it took me about 30 minutes to cover that distance. Granted I was behind a couple cars with tourists who thought the 10 mph posted speeds on some of the switchbacks were excessively high. I ended up shifting down to first gear a few times when I would rather have stayed in second.
But it's not like I was grumbling about them holding me back. I would probably only have shaved a couple minutes off that time on my own. So consider this: The top racers were shooting to make this run in under 10 minutes for the first time ever. That is to say, they would have needed to average 73 miles an hour the whole way up. Yikes! There is no portion of that road I want to take at 73 mph period, much less average that speed the entire way up.
Now, the 10-minute barrier wasn't broken, so the record remains all of 10:01.41. And the fastest time this year was 10:11.49. Oh yeah, that guy was going slow!
So the race was fun and very interesting but the real trip was the mountain. If you're coming to ride in Colorado you have got to ride to the top of Pikes Peak. Yeah, there's a $12 fee per person but it's worth it. And while the road used to be only half paved, there are now just two remaining stretches of dirt and the rest is asphalt. Paving is to be completed in 2012. So if you want to ride it while there's some dirt left you'd better come soon. Or if you'd rather avoid the dirt you only need wait a couple more years.
For myself, I would have welcomed a dual sport bike on that gravel, but I did it OK on the Connie. And I've ridden over high passes before many times but I wondered if going up on a bike with carbs would be an issue by the time I got to 14,110 feet. No problem. It ran just fine. Remember though, I'm tuned for Denver elevation already, so if you're tuned for sea level it could be a different matter. But I didn't see anyone who was having any trouble.
Of course I'll be adding Pikes Peak to the Passes and Canyons website. Hey, I've got the photos and the info now, and all I need is the time to get it done. I'll let you know when it's up. Till then, you can check out these pictures.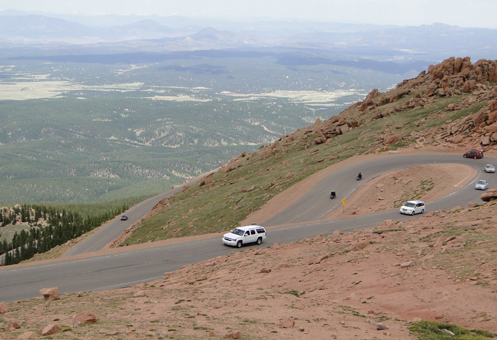 Recent from National Motorcycle Examiner
First Hoka Hey riders reach Homer; first to arrive not necessarily winner
Biker Quote for Today
Accelerate until you see God, then BRAKE! –Kevin Schwantz