Tuesday, December 29th, 2009
It has been a good year for this motorcyclist, and a lot of the good parts have been reflected here in this blog. Here's a recap of the highlights, in case you missed any of these.
Having a Great Time at the Motorcycle Ice Races
The year got off to a really fun start when we went to see the ice races. Yes, it was cold, but even Judy had a blast. It's almost January now so we'll be heading back up soon for another dose.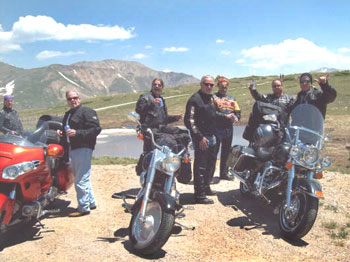 Checkin' Out the Swap Meet
This is another January tradition. I'd be going to this event if for no other reason than all the great photos I get of fancy motorcycles.
Rounding the Curves at High Plains Raceway
What a surprise to happen by High Plains Raceway and discover that it was ready to open. The last I had heard the likelihood of that had been given to me as slim or none, but there it was.
Working for Dedicated Motorcycle Parking
This was a story that I picked up on and followed that promised good things for bikers in Denver. The city was planning to set up motorcycle-only parking in currently underused spaces around downtown. Unfortunately, as with so many other things, the recession nipped that bud. While the cost would have been negligible, any cost that was not mandatory was deemed expendable. Maybe next year.
12 Motorcycling Lessons I've Learned
This was a series of articles I had done for Examiner.com, which I made available here in booklet form.
A Day at the Motorcycle Races, New Track Inaugural
High Plains Raceway did indeed open and I was there for the first ever motorcycle racing event held.
Meeting Up with the Run for the Wall in Limon
This was the first of what has become a series of events that I've covered via participants who send me reports. As this thundering horde came through Colorado on its way to D.C., I went out and met them in Limon.
Broken Wings: The Back Story
"Broken Wings: When a biker goes down hard" was one of the best pieces I've ever written, and as I have taken to doing, I told the behind the scenes story here, while running the story itself on Examiner.com.
Three Days on the Bike, An Exploration
I rode old U.S. 6 from Denver to the state line with Utah, seeing just how much of the old road survives what with I-70 taking much the same route.
Taylor Canyon and Cottonwood Pass Are Keepers and I Finally Make It To Kebler Pass
I finally got to some places in Colorado I'd never been to. Doesn't get any better than that.
Heading to the Bonneville Vintage GP and Concours
Taking this moto-journalist thing seriously, I headed out to the salt flats for this event. Had a great time.
Douglas Pass Deserves to Be on the Website
Another great Colorado road I'd never been on. Now if I can ever find the time to get this up on the site like I promised.
My Chance to Ride a Racing Sidecar–Barely
Part of the reason the trip to Bonneville was such fun.
30K Harley Rider Does Iron Butt Extreme
I got a tip about this guy who rode 30,000 miles in 30 days, and called just as he got home. What a terrific story.
OK, that's some of the good ones. There are more but I don't want to drag on too long here. If you've been keeping up with these stories as they've been written I hope you've enjoyed the ride at least a little bit as much as I have. More to come in the new year.
Recent from National Motorcycle Examiner
What's up (Way up!) with ape hangers?
Biker Quote for Today
If you're riding on 2 wheels then you're OK by me!!