Thursday, July 29th, 2010
When the Ducati turned up in my driveway, nobody knew what to do with it. I was in New York, covering a polo tournament, and people had threatened my life. My lawyer said I should give myself up and enroll in the Federal Witness Protection Program. Other people said it had something to do with the polo crowd.
The motorcycle business was the last straw. It had to be the work of my enemies, or people who wanted to hurt me. It was the vilest kind of bait, and they knew I would go for it.
Of course. You want to cripple the bastard! Send him a 130-mile-per-hour cafe racer. And include some license plates, he'll think it's a streetbike. He's queer for anything fast.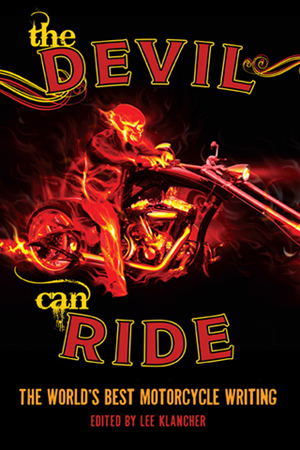 That's Hunter S. Thompson speaking there. He was into motorcycles.
If you ride motorcycles the chances are good that you like to read about motorcycles. Taking me for example, I get three moto magazines in the mail and occasionally pick one or two up at the newsstand. And then there are the books.
I read a really good book just recently and I'm passing it along to you as a recommendation. The book is The Devil Can Ride: The World's Best Motorcycle Writing. It is a collection of pieces by different authors, edited by Lee Klancher. The quote above is from "Song of the Sausage Creature," and it's one of the pieces in the book.
This book is not just a collection of well-known articles by well-known writers, however. Some you'll recognize but many you will not and often the ones who write the most interesting stuff are the folks you never heard of. The whole time I was reading this I kept wondering how Klancher came up with all of these pieces.
Take Elena Filatova, for example, and her piece, "Ghost Town." She likes to ride her bike through ghost towns, but no, we're not talking about some old west USA ghost towns. We're talking Chernobyl. You know, as in the area in Ukraine where the nuclear reactor melted down and poisoned everything for centuries. Apparently it's not overly dangerous to pass through these areas, you just don't want to stop or spend too much time there.
I travel a lot, and one of my favorite destinations leads north from Kiev, toward the Chernobyl Dead Zone, which is 130 kilometers from my home. Why is this my favorite? Because one can take long rides there on empty roads.
The people all left, and nature is blooming. There are beautiful woods and lakes.
There is a broad range of motorcycling included here, ranging from adventure tourers to one-percenters to the totally weird. George Orwell (or at least his motorcycle) to Robert Pirsig to T.E. Lawrence, as well as a few familiar names like Brian Catterson, Kevin Cameron, and Peter Egan. Plus, as I said, all the people you never heard of.
This is a good book. Publish and send me a Volume 2 and I'll dive right into it. Meanwhile, you might want to check out the only volume available now.
Recent from National Motorcycle Examiner
William Barclay declared winner of Hoka Hey, to receive cash via wire
Biker Quote for Today
Life begins at the end of your comfort zone.