Monday, August 29th, 2011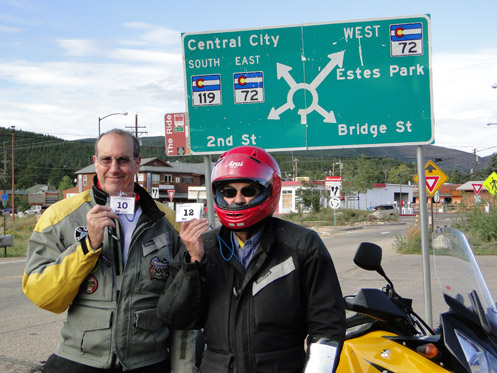 I headed out on Friday on the first leg of this year's Colorado Motomarathon, not intending to do the whole thing but just to get some pictures and talk with the guys who competing. The first thing that struck me was how fast most of these guys ride. Maybe it was just the exuberance of getting started, but they started right in dicing with traffic in Boulder and once we hit Boulder Canyon they really got going. I was in the middle of the pack at first but it wasn't long before nearly everyone passed me. I picked up my speed above what I usually do but by the time we reached the first checkpoint, in Nederland, there was only one rider behind me.
Wanting to get a little ahead for the sake of photos, I took off pretty quickly from Nederland, along with two other riders. They soon lost me on the Peak-to-Peak but I did catch up with them nearing Black Hawk because of traffic that bottled them up. In the meantime, passing Rollinsville we saw that the police had already nailed two of the group, putting a bit of a damper on their exuberance I'm sure.
From Nederland on I did a lot of my riding on my own, which was fine with me. I believe strongly in riding your own ride and I just can't enjoy the ride as much if I have to put so much of my attention to just riding. And when you're shooting up Loveland Pass you'd better be paying attention to your riding.
I parted with the group–they were heading for Ouray that day–at the top of Loveland Pass. As everyone else left I hung around waiting for the one more rider I knew hadn't arrived yet. Adam, of Woodland Park, finally arrived on his Kawasaki Vulcan, the only cruiser in the group of mostly Ducatis and beemers. Adam said he didn't care about riding fast like the rest of the guys. For him it was just fun to take his time and enjoy the ride. He acknowledged that he doesn't have as much opportunity to get well acquainted with the other guys because he doesn't keep up with them, but no matter. I have a strong suspicion that if I did ever do a Motomarathon I'd be hanging out with Adam a lot.
So I'll be meeting up with the group again today as they come on home. I'll either ride out and meet them in Evergreen for the ride back to Boulder, or else I'll just meet them in Boulder. Now I want to hear the stories of the last four days. I hope they have a lot of good ones.
Recent from National Motorcycle Examiner
Mechanical woes my end Jon Kuo's season early
Biker Quote for Today
"You pay for the whole bike, why not use it?" — Jerry "Motorman" Palladino