We have a guest post today, from 1tail.com. Hope you find it useful.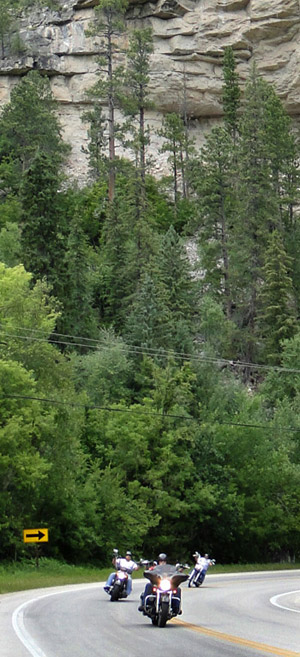 Motorcycles are like the untamed beasts of the modern day, at least when compared to more comfort-oriented vehicles such as passenger cars and crossover SUVs. You may be the kind of motorcycling enthusiast who shuns the traditional comforts of the car in favor of the open air and rugged feeling you get from riding a motorbike, but sometimes that changes on long travels. If you're going to be riding on your bike for hours or even for days across the country, you may need some subtle upgrades that can improve your enjoyment of the experience without taking away from what makes your bike what it is in the first place. Below, we'll break down several elements of motorcycle travel to consider, and what upgrades can help you avert displeasure (or disaster) on the open road.
Personal Comfort
Getting comfortable can be hard enough in a car where the seats are plush and the arm rests are, well, existent. On a bike, you may be used to getting thrown a bit and keeping your rear end tucked onto a hard seat, but you may not want to be used to that after a twenty hour ride. If you have long travels ahead, proper bike seating is a must. For some drivers, simply installing a wider aftermarket bike seat can make all the difference. For others who may suffer from several back problems, motorcycle seats with built-in backs can be helpful. There are many different types of bike seats available, from stiff and rigid to squishy and soft, so pick one that best suits the needs of your backside.
Clear Vision
Seeing is important. Those three words are all you need to know, but you may not know everything that's essential to keeping those words in effect. First thing you should cover is motorcycle lighting. You'll want bike headlights that are powerful, even so much so that they overcompensate a little (on a bike, all the extra luminosity you can get will be a big benefit to you). You pay also want to consider tail light upgrades, such as motorcycle LED tail lights, which are vivid, easy to see, and will be helpful in notifying other drivers of your presence on the road. A proper motorcycle helmet and windshield will also help deflect objects, bugs, and debris that may otherwise impair your vision.
Other Areas to Consider
Sometimes, there are car components that don't do much during day-to-day driving, but can be extra helpful to use on long trips. When you're constantly shifting lanes on the highway, a set of strong, durable motorcycle mirrors can be a huge asset. Similarly, motorcycle rims with reflective paneling can be helpful in keeping your bike noticeable in the dark. Little things like these might not seem like much, but when it comes to your safety on the open road, the little things do matter.
Recent from National Motorcycle Examiner
Pros and cons of vacation motorcycle rental
Biker Quote for Today
Now just turn the damn key, and go have some fun already!
Tags: motorcycle gear