Monday, January 30th, 2012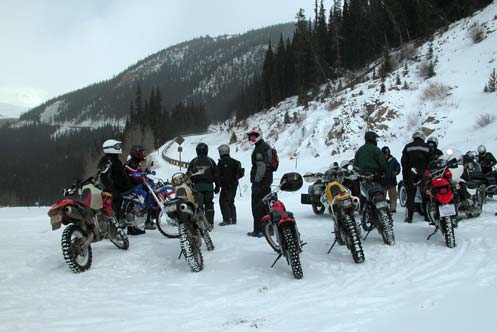 PsychoSteve has come through again. The Elephant Ride is on for the second weekend in February, but the gathering point has moved a short distance.
There was initially some concern because PsychoSteve no longer lives in the house in Grant that has been the starting point of this winter ride up Guanella Pass. Veterans of the ride offered assurances that if nothing else the plan would be to camp up the Guanella Pass road a bit as has been done before, but that won't be necessary.
PsychoSteve announced on Jan. 15 on Adventure Rider that he had arranged with the new owner of the Grant Motel to use that property for camp-out, bonfire, launch point–everything. At this point all of the five rooms in the motel are rented but Elephant Riders traditionally pitch tents or sleep in their vehicles, as I done the last two years.
To really take part in the adventure you need to show up on Saturday night (Feb. 11) for the bonfire, the eating, the drinking . . . the fun. Then on Sunday morning at around 10 a.m. or so the assault on the pass will begin. While there hasn't been a huge amount of snow this year, PsychoSteve and a buddy went up there a couple weeks ago and report that there are indeed spots with serious ice and deeply drifted snow.
In other words, it's a normal Elephant Ride. So drill those screws into your tires and get out your warmest winter riding gear. The fun is about to begin.
Recent from National Motorcycle Examiner
Bikers relate their Oops! moments
Biker Quote for Today
Bikers are a rare breed…Harley riders are a dime a dozen.