Monday, November 29th, 2010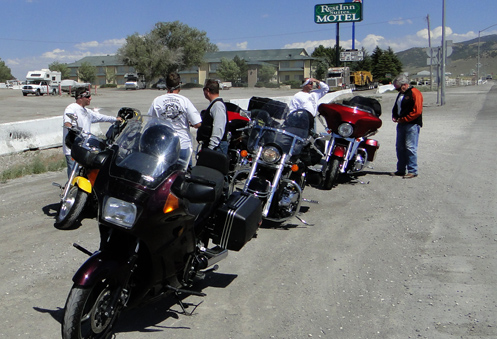 We were coming down from the Black Hills and had been in Nebraska for about an hour when we stopped at a table along the road. There was another guy there, in a car, and we struck up a conversation with him. Along the way he mentioned, "This is a bucket state, by the way."
Oh really? We hadn't known that and we had been riding without helmets on. Oops. We had done the same thing a year or two earlier when we rode into Nevada for the first time. Somehow we got all the way to Las Vegas before we learned they required helmets.
Of course that was a long time ago, before the Internet, and we could be excused our ignorance. Back then it wasn't easy to know what different state laws are. And if a state does require helmets, why the heck don't they put up a sign at the border that says so?
There's no excuse anymore for being ignorant of the laws in a state you'll be riding to. The Internet does exist now, and one excellent place to check up on all states is a handy page on the American Motorcyclist Association's website. You go there and there's a map of the U.S. Click on the state you want to know about and it takes you to a listing of what they require and forbid.
The very first item on the list, presumably because this is the most common question, is the helmet requirements, if any. Other information includes the following:
Safety Helmet
State Funded Rider Ed
Eye Protection
Daytime Use of Headlight
Passenger Seat
Passenger Footrest
Passenger Age Restriction
Helmet Speakers
Periodic Safety Inspection
Mirror Left(L) Right(R)
Radar Detector
Turn Signals
Muffler
Maximum Sound Level
State Insurance Requirements
Handlebar Height
Rider-Education
Accept Motorcycle Endorsement From Other States
Accept RiderEd Completion Card From Other States
Motorcycles operating two abreast in same lane
Lane Splitting
Lemon Law Coverage
I'll bet you didn't even know that some states have requirements or prohibitions in some of these areas. Heck, you might even learn something about your own state laws.
Any by the way, the page also has separate legal requirements for off-road bikes. All in all it's a lot of good information.
Recent from National Motorcycle Examiner
Fly and be groped or ride and have fun: Your choice
Biker Quote for Today
Remember when sex was safe and motorcycles were dangerous?