Monday, January 31st, 2011
I've been up-front about my disinclination to even try doing an Iron Butt ride but Dan Leffert has managed to plant a seed. (That's Dan in the picture. Notice that Iron Butt pin on his hat.)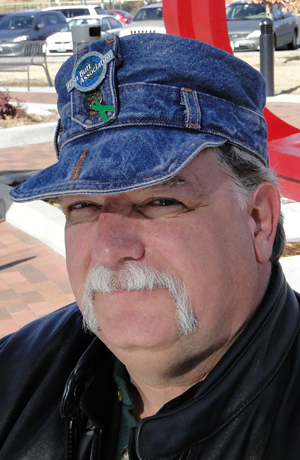 The Iron Butt Association (IBA), of course, is a group of motorcyclists who have ridden 1,000 miles in 24 hours. Their slogan is "World's Toughest Riders."
The longest rides I've ever done have been around 500 miles, and I've done that three times. They were doable but I had no desire whatsoever to continue and cover that same distance again all in the same day.
I mentioned that fact in a recent post here, "What I Want to Do: Motorcycle Bucket Lists," where Dan, an Iron Butt rider himself, read it. He tells me he made a note to contact me and see if he might change my mind. Then my editor at RumBum.com asked me to do a profile on an Iron Butt rider so, long story short, I posted a note on the IBA forum where Dan saw it and gave me a call.
Dan and I met on Saturday and talked. The story that will come out of that will presumably be posted on Rum Bum on Feb. 9, unless my editor does something unexpected, which happens. What I want to tell you now, though, is what that headline above suggests. Dan got to me, just a little. He's made me start thinking about it.
Turns out Dan is helping organize an Iron Butt event here in Colorado in September. For beginners, they'll be doing a three-pointed star ride that will start in Denver, go south to Trinidad, back to Denver, west to Grand Junction, back to Denver, then northeast to Brush, and back once again to Denver.
That's a lot of riding in one day. I've ridden from Denver to Grand Junction and the reverse, but never both in the same day. That alone looks like a lot to me. But what makes this at least a tiny bit appealing is that I could try it and go to Trinidad and if, when I got back to Denver I didn't want to go any further I could just stop.
One thing that has put me off in the past is the idea that if I started a ride, once I was a few hundred miles from home, if I wanted to chuck the idea, I'd be stuck riding at least another few hundred miles to get back home. The star route eliminates that issue.
Now suppose I went to Trinidad and back and then headed for Grand Junction. That would, all by itself, be the longest day's ride I've ever done. But I have a brother who lives in Grand Junction so if I got there and just didn't want to ride any further I would have a place to spend the night. And if I did go back to Denver, once again, I could call it off at that point.
But I suspect that if I made it that far it would be hard to resist the relatively short run out to Brush and back to Denver to make it complete.
So I don't know. I'm still very skeptical, but Dan got the seed planted. We'll see. I've got till September to make up my mind.
Recent from National Motorcycle Examiner
Games motorcyclists play: Tag-O-Rama
Biker Quote for Today
It is good to have an end to journey toward, but it is the journey that matters in the end. — Ursula K. Le Guin