Monday, March 29th, 2010
At the risk of raising a lot of people's hackles I'm going to come right out and say that I don't necessarily go along with the slogan, "Loud pipes save lives." That said, I have to admit I was in a situation yesterday where I really feel that if I had had loud pipes, the guy who had no clue I was in the lane he wanted to be in might indeed have had a clue. I'll describe the situation.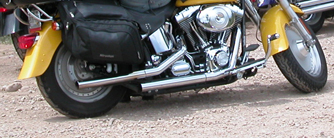 I was on I-225 coming past an interchange and there were a number of cars getting on the highway. I was in the left lane and they filed on in the right lane. It was a no-brainer that at least a couple of them were going to want to move over into the left lane. So as I passed each one I was extremely attentive to their movements.
Sure enough, just as I knew I was moving into this one guy's blind spot I saw him take a look at his mirror. "Here he comes," I said to myself. I immediately moved further left and goosed the throttle so I was quickly in a position where he couldn't help but see me, and he swerved back into his own lane.
I really do believe that if I had been on some loud, rumbling machine he very probably would have heard me and done a head check when he didn't see me in his mirror.
My point, however, is that quiet pipes did not cost a life in this situation, defensive driving saved a life. Loud pipes were not necessary.
I have a friend, Jungle Fuhrman, who insists that if you have an accident you screwed up. Period. It doesn't matter if the other guy was very much at fault, it's your skin and you have a responsibility to anticipate any and all stupidities of the idiots out there. If you have an accident, you didn't do your job. No, they didn't do theirs either, but you're the one dead or broken.
So maybe, just maybe, loud pipes are in reality a lazy man's approach to defensive driving. But if so, that's false security. There's no substitute for the real thing.
Recent from National Motorcycle Examiner
Motorcycle safety tips to post at work
Biker Quote for Today
AGTATT doesn't mean much if you get run over by 60,000 pounds of truck and cargo.