Thursday, June 30th, 2011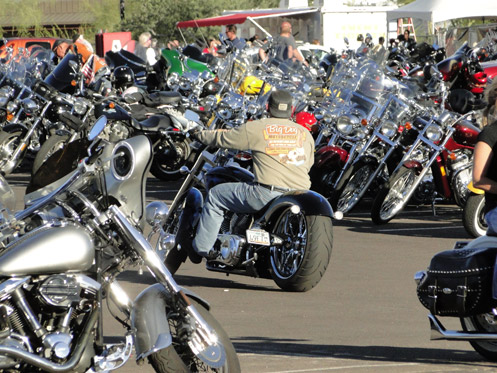 It didn't earn me anything except gratification, but Cycle Source magazine just published one of my photos. That image above is what I sent them and the way it was cropped and adjusted can be seen below. As you can see, it was a horizontal shot that they made into a vertical, plus they rotated it a bit to give the rider more of an angle. All good design techniques.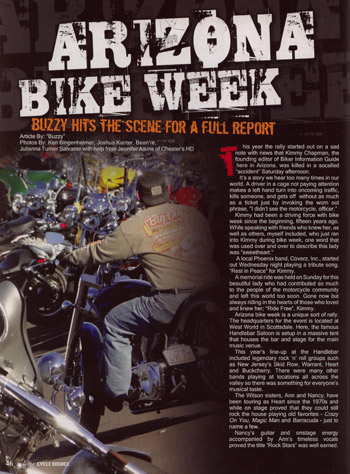 This whole thing came about because Tim Bussey, one of their staff writers, was covering Arizona Bike Week but had trouble with his camera. He found my pictures on Examiner.com and contacted me to ask if he could use some with his story. I said yes and sent him several. This one shot is the only one they used.
I like that they used this shot. I selected it to send to them because the guy is wearing a Big Dog Motorcycles T-shirt and I presume he's riding a Big Dog. Of course, Big Dog went into bankruptcy very shortly after the rally.
So it may not be as big a deal as getting one of my photos published in Rider magazine but it's still cool. Buzzy sent me a couple copies of the issue and I'll stash them away for posterity. Now if only Rider will publish that story of mine they've been sitting on for seems-like-forever!
Recent from National Motorcycle Examiner
On the motorcycle scene with Diva Amy
Biker Quote for Today
Any day spent riding motorcycles is a great day.