Monday, June 30th, 2008
All right, now this is great!
I've talked before about the group of guys I ride with and how we call ourselves, with tongue in cheek, the Old Farts Motorcycle Club. That's tongue in cheek because, for one thing, several of these guys are pretty dang young.
Well anyway, John did a design a couple years ago of a logo for the group, forming a motorcycle from the letters OFMC. A very ingenious design. Zoom ahead a couple years, and now as we're getting ready for this summer's trip John has had the design turned into a sew-on patch and it looks great. Here, see for yourself: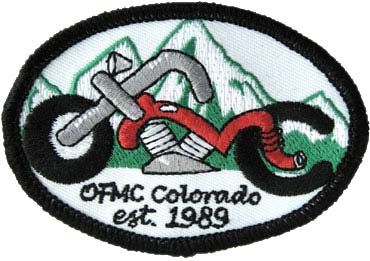 I can't wait to get my hands on these. He had enough made so we each get six, and I have three spots picked out already. One will go on my leather jacket, and one will go on a baseball-type cap. The third will go on a denim shirt that already has a patch on it that I want to cover up. It's a really nice shirt but the patch is for a company where I used to work that I would describe as a bunch of jerks who know nothing about treating people with decency and respect. I haven't been able to cut it off so I'm just going to cover it up. Then I can start wearing the shirt!
So, oh boy! The bike trip's coming soon!
Biker Quote for Today
Sometimes the best communication happens when you're on separate bikes.