Thursday, July 28th, 2011
This whole thing is a little confusing. I've always known the pass on CO 114 between Gunnison and Saguache as North Pass, but my friend John calls it North Cochetopa Pass. On top of the pass it uses that name on the sign. But I find it called by both names in various places. Go figure.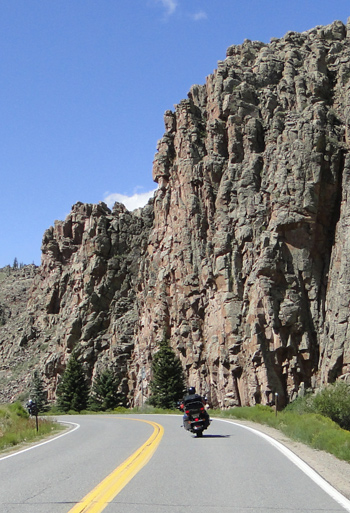 Either way, I had been over it but when we rode over it yesterday I was very surprised to find it much nicer than I remember. Just as I remembered, it was a gentle climb through pine forests from Saguach, and no spectacular views. Nice, but I've never considered it worthy of giving it its own page here on this website.
What I had forgotten was going down on the Gunnison side. The road quickly descends from the heights and exits the pine forest to wind its way down a ranching canyon. You have brown hills rising on both sides and the bottom land is covered in meadows, hay fields, and pasture. The home of many happy horses and cows.
Then the canyon narrows. All of a sudden you're riding some great twisties between towering rock canyon walls, with the narrow canyon bottom taken up equally by the river and the road. The canyon then opens up again, and later it gets tight and steep. One road sign tells it all: Trucker beware–tight turns next 8 miles.
The bottom line is that if you're out this way it's worth riding this pass. It's an alternative to Monarch Pass, and while Monarch is more spectacular, if you've been over Monarch before and haven't been on North Cochetopa, and particularly if you're coming up from Alamosa, you can go wrong taking this road. Enjoy.
Recent from National Motorcycle Examiner
OFMC ride hits the high spots, literally
Biker Quote for Today
Chrome don't get ya home.