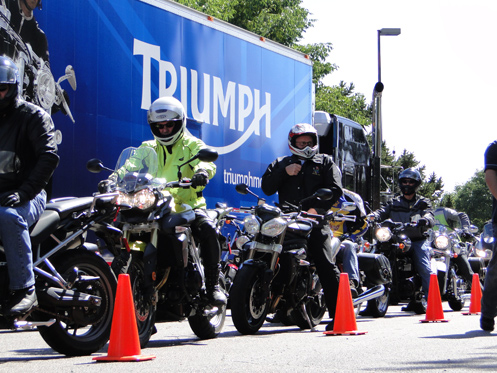 Demo rides are a great way to try out different motorcycles, whether you're looking to buy a new bike soon or just want to see what you like for whenever the time comes. Just don't show up without proper gear.
Of course, the problem is that no two manufacturers seem to have exactly the same list of what they consider proper gear. Play it safe and go the ATGATT route. That way you'll be covered (ha, ha–pun intended).
I went over to Foothills BMW yesterday to demo ride some Triumphs. It was a nice day and I didn't feel the need to wear gloves, but they were in my pocket. When I saw the list of what Triumph was requiring, there they were on the list, gloves. Glad I had them.
I met up with my friend Randy there, and he had also come to ride some Triumphs. Randy had his helmet but he didn't have a jacket or gloves. It never crossed his mind. Fortunately, one of the guys running the demos was just his size and loaned Randy his own jacket and gloves, so Randy got to ride.
There really is no consistency. You'd think all manufacturers would require a helmet at a minimum, but I've been to demo ride events where they were optional. Also, Triumph was requiring simply "no open toe shoes." Sneakers were OK. That surprised me, considering I had just done this RiderCoach training recently where one paying student was turned away because he only had sneakers, not boots that fully covered his ankles.
Sometimes they want you to have a jacket or long-sleeve shirt at least. For the MSF rider courses that's the requirement, though lord knows a long-sleeve shirt isn't going to do you any more good in a get-off than a simple T-shirt. And other times I've seen just T-shirts to be OK.
The bottom line is that you just can't tell. Better to go to the demo ride event with ALL your gear. Then if they don't require it and you don't want to wear it, don't. But don't put yourself in a position where you come all this way only to be turned away.
Recent from National Motorcycle Examiner
Focus on bringing in new motorcycle riders
Biker Quote for Today
Don't run your fingers over my bike and I won't run my bike over your fingers.
Tags: Triumph motorcycles