Thursday, April 29th, 2010
Riding home from the Laughlin River Run a few days ago I was struck by how many motorcycle travelers I saw. These were not people going to or from the rally, but they were clearly traveling. They were in groups and each bike was loaded with gear.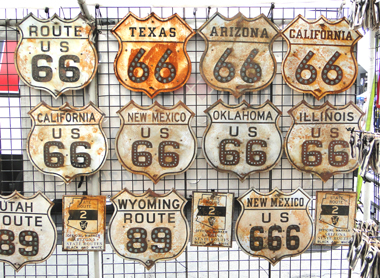 Route 66 signs for sale in Laughlin
The reason this struck me as surprising is that my group, the OFMC, takes its trips in the summer. That's when the weather is cooperative. Heck, in Colorado, April is frequently our snowiest month. If you plan a motorcycle trip in Colorado in April you'd better be prepared to change or abort your plans altogether.
Of course, the result of this is that we have taken trips to Las Vegas and Laughlin and other places in Nevada, and in Arizona, and we have roasted. Last time we hit Laughlin it was 115 degrees. Yow! In contrast, when I was there a few days ago it was in the 70s. At night it even got chilly sometimes. BIG difference. And more than that, the desert was actually green. I never knew the desert ever got green. But I'd never been there in April.
So it occurs to me that these people I saw are smart. They're taking motorcycle trips through the Southwest and they're doing it in April. I'm sure that even in Nevada and Arizona, if you're at a high enough altitude, you could still run into snow in April, but it's probably not too big a threat. So I'm already pushing some of the more flexible OFMC guys to consider doing one of these southern trips next year that we've discussed but avoided. All we have to do is go at the right time of year. And that ain't August.
Recent from National Motorcycle Examiner
Laughlin River Run finale and exodus in pictures
Biker Quote for Today
Ride fast and take chances!