Friday, August 29th, 2008
Just when you thought you'd seen it all, trust some 19-year-old kid to come up with the most revolutionary two-wheeler yet.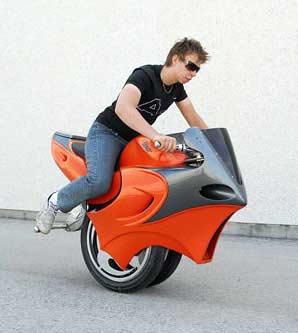 Ben Gulak, from Toronto, has developed an electric-powered vehicle with two wheels side by side. It has gyroscopic stabilizers that allow it to stand upright, and you lean forward on it to move forward, much like Dean Kamen's Segway. The further forward you lean, the faster it goes. To turn you lean in the desired direction.
Called the Uno, the starting point is a Yamaha R1 frame, but the commonality ends right about there.
Gulak is clearly a whiz kid, and he was inspired when he went to Beijing for an international science fair. He saw the smog created by all the two-stroke scooters and motorcycles and decided an electric vehicle was what was needed. Gulak worked out the basic design on his own but turned to Trevor Blackwell, the inventor of the Eunicycle, a single-wheeled gyro-stabilized vehicle, for further development assistance.
So far, the top speed is 15 MPH, but Gulak thinks it can get up to 40 MPH with further development.
Keep your eyes open. I'm thinking we'll be seeing more of this soon.
Biker Quote for Today
Just ride the damned thing.