I made a run over to Steele's the other day. In case you're unfamiliar with the place, Steele's Salvage at 2025 W. Union, is a junk yard for dead motorcycles.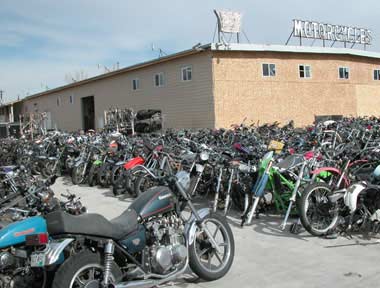 Mind you, Steele's is a lot more than that. They sell used bikes of all kinds, they do service, and they sell both new and used parts. But it's the salvage yard — to use the more PC term — that is totally fascinating.
There must be a couple thousand motorcycle carcasses parked row on row on the property. Many are just rusty hulks, others have clearly been consumed in flames, while many are in perfectly fine shape, ready to donate an organ to keep the brother you're riding alive. All of them are in a greater or lesser state of disassembly.
I ride an old bike, a 1980 Honda CB750 Custom, so it's no surprise that I have done business at Steele's. At one point my saddle was so torn and ragged that I came to Steele's for a replacement. It's a pretty easy guess that dealers don't carry replacement saddles for 20-year-old bikes, but that's why God invented salvage yards.
Another time I needed a fusible link. In the case of the CB, this is just a small, slotted piece of copper that makes all the difference in the world as to whether the bike will run or not. You could probably put a box with a thousand of them in your pants pocket but you won't find a single one at a Honda dealer these days. At least not one for a 1980 model bike.
At Steele's I asked at the counter and they didn't have any in stock, but they pointed me to the part of the yard where the Hondas reside and invited me to help myself to any I might find.
Not surprisingly, the spot in the wiring where the fusible link goes was empty on all the bikes I checked. But the factory sent the bikes out with spares. Inspecting the storage area on several bikes, I found half a dozen and laid claim to them all.
So I'm probably set with fusible links for the life of the bike. And when it finally dies it will probably end up at Steele's or some place comparable, along with a few spares. They may some day serve to keep someone else's old beast on the road.
I know there are plenty of folks who only want the latest, the hottest, and the fastest bike available, and for them, Steele's is irrelevant. But for those of us who ride and love older bikes, Steele's is the difference between the life and death of an old friend.
Plus, it's just fun to wander around through all those old junkers.
Biker Quote for Today
It's an old motorcycle. The wind is supposed to blow your head around, it's supposed to leak oil, the brakes should suck, and every now and then, it should scare you so bad you piss your pants.
Tags: Steele's Salvage