Monday, May 16th, 2011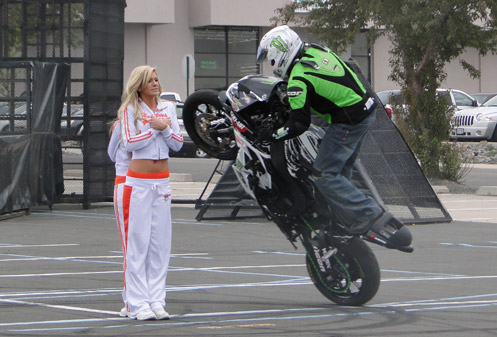 It was cold, and later it got wet, but I went over to the Fay Myers spring Open House Saturday as planned, to enjoy the show and ride some Zero motorcycles. It was worth it.
The stunt riders did the sort of stunts that by now I've seen many times, so even though I can't come close to doing what they do it's just not that big a thrill. However, there was a guy doing trials demos and he was definitely impressive. I want to see more of that.
My main reason for going was to demo ride some Zero electric motorcycles. I rode a few about a year ago and the improvements in that year are amazing. Last year we stayed in a parking lot and considering the capabilities of the machines, that was adequate. This year we got out on the street and that just had to be. There's no way you can experience the power of the new S (street) and DS (dual sport) Zeros in a parking lot. They go fast!
And the Zero guys tell me they also go farther. I can't wait to see what electrics can do in five years.
So I chatted with a couple of the Zero guys a bit and they filled me in on where things are headed. I asked first if Zero is planning to offer bikes with gears, as Brammo is now doing. There are issues with that, I was told. Adding gears would add weight, which is something they definitely don't want to do until battery power is better. And I haven't checked this out so it's just hearsay, but they guy told me they recently had a race where the new Zeros outran the new geared Brammo. So why add gears?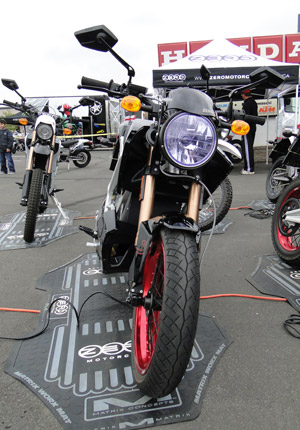 He also told me that in this race they were competing against gas-powered bikes and the electrics just smoked the gas bikes. Even giving them a head start–I can't remember how much, three minutes?–he said the electrics all overtook the gassers by the third lap.
One of the bikes I rode was the Zero XU, which in truth seems to be pretty much a scooter. It doesn't have the power or range of the S and DS and is only intended for running around town. So I asked if Zero was considering selling a scooter. The issue there, I was told, is that it costs in terms of design, production lines, and warehouse space every time you add a new model. There's a lot the company would like to do but until they can ramp up sales significantly those things are just not going to happen.
One aspect of doing this demoing at Fay Myers is that Zero is looking to sign up dealers to carry their bikes. They're especially interested in the Colorado market because of the terrific tax credits this state offers for electric vehicles. The highest price Zero is the DS, which has an MSRP of $10,495. With state and federal tax credits, we can buy them here for $5,395. With that bike's improvements, that's something worth considering, especially since operating the thing costs about a penny a mile in electricity. How does that measure up to your $3.67 a gallon gas?
Recent from National Motorcycle Examiner
Demo riding 2011 Zero electric motorcycles shows huge advancement
Biker Quote for Today
If loud pipes save lives imagine what learning to ride that thing would do!!!