For the first couple years that I was working on this website the focus was entirely on paved roads. I didn't have any off-road experience, plus there was plenty to keep me busy just putting up info on the paved roads, so I didn't touch the gravel.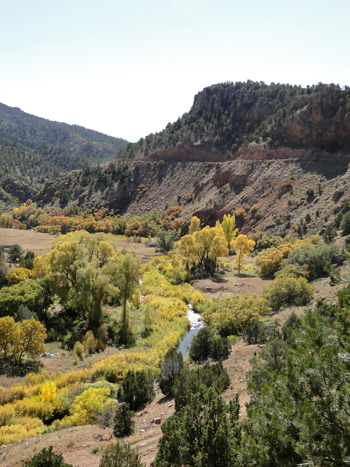 Then I got an email from Larry Matkovich, who runs Larry's Custom Cycle in Canon City, suggesting I add some info on gravel roads ("dirty" roads as he called them) and he offered to provide me the scoop on some, along with a rating system he had devised. Thus was born the Dirt Roads and Side Trips page on the site.
The very first dirt road Larry introduced me to was the Shelf Road, which runs north out of Canon City to Cripple Creek. And although I've had it listed on the site for probably three years now, I had never been on it. Until yesterday.
I'm here to tell you, this is a good ride. Using the system he devised, Larry rated this road a 2, "Doable but not recommended for sport bikes, full dressers, some cruisers especially 2-up." I might be a little more generous, maybe giving it a 1, "Fair gravel road, a bit more skill required, but OK for all bikes."
Either way, it is a little rough in some places, with a good bit of washboard, but it's doable. It's better on a dual-sport, but if you're on a street bike you can just take your time and ride around the potholes. Kind of like my friend Janet Linn does when she goes over mountain passes on her Ninja.
And boy, yesterday, with the fall colors, it was a beauty, as you can see in the photo. The weather is getting dicier so any of this kind of riding you intend to do you'd better do soon. Yesterday was a good one. It may be the best we'll see for awhile. Hope you were out riding.
Recent from National Motorcycle Examiner
Hoka Hey finishers did get money
Biker Quote for Today
Go ahead . . . Get married, have kids, drive a van. LOL.