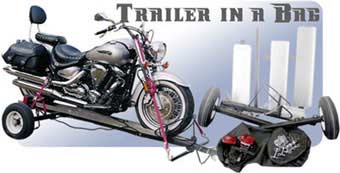 Have you ever needed to haul your bike around but don't have the space to keep a trailer? This may be just the thing you need.
Discountramps.com is now offering a motorcycle trailer that can be assembled without any special tools. When not in use, disassemble it and store it in its bag. It weighs 140 pounds and, they say, fits easily into the trunk of your car.
Here's the list of specs:
Can carry wheelbases up to 71″
Tongue Weight: 120 – 160 lbs
Weight Capacity: 2000 lbs
Product Weight: 140 lbs
Wheel Distance: 60 inches
Hitch Class: any
Heaviest Part: 33 lbs
Longest Part: 42 inches
They also sell a trailer that can carry two bikes.
Now, I've never used this thing, and I would want to be really sure it is going to be stable and solid before plunking my money down. But if I needed to haul my bike(s) around I'd sure look into this because there is nowhere that I would have to store a regular trailer. Oh, and the price is a little over $1,000. The two-bike rig costs more than twice that.
Biker Quote for Today
Bikes vs. Women: It's always OK to use tie downs on your motorcycle.
Tags: motorcycle trailer