This seems like a good time of year to resurrect this particular Examiner piece. I guess you can now disregard the bit about traffic being down due to the recession.
Are tourist traffic jams lessened in Yellowstone this year due to the recession?
The answer is yes. If you're thinking about riding about coming to Yellowstone but are put off by stories of huge traffic jams, this seems to be a good year to come.
Note: I just read a report that Yellowstone is reporting record visitation for the year. My assessment is purely anecdotal. I've been there before and it just was not as crowded this time as previously.
On the other, your economic stimulus dollars are hard at work in the national parks this summer and that translates into construction delays that at times can make the tourist delays pale in comparison.
The OFMC has never "done" Yellowstone before. We've gone through it but it was mostly a matter of avoiding all the tourist areas and getting across to the other side. This year we actually did Yellowstone. That is to say, we stopped at places like Old Faithful and Mammoth Hot Springs, just like ordinary tourists.
We also made some stops that the average tourist may not know about, but which are especially nice on motorcycles. In this case, thanks go to one of our group who had done the park on his bike with his wife last year. He had scouted out the really cool spots and led us to them.
Our route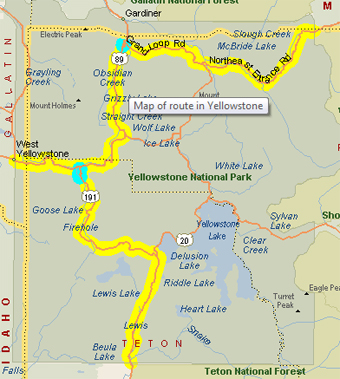 We entered Yellowstone from Grand Teton National Park, coming up US 191, which runs north-south through that park from Moran Junction. We actually hit our first major construction delay on the last 8 miles of that road. No simple resurfacing going on here; they were excavating down to roadbase and putting in new base, essentially completely rebuilding the road. It was 8 miles of gravel and dust and stop and go.
Entering Yellowstone, we immediately saw signs telling us that we would encounter construction over the next 10 miles. However, we first hit brand new asphalt and then ran into extremely fresh chip seal. But that was the worst of it in Yellowstone. And coming in we ran right along the rim of a deep gorge. Very beautiful.
We continued on up US 191 and reached Old Faithful, where we pulled off to see the geyser. This stretch of road is essentially four-lane divided highway, complete with a freeway-like interchange to facilitate the masses of traffic. The road was mostly empty as we entered, due to the fact that they geyser was just set to blow. We were still parking as hordes of people came out to their vehicles.
Lesson one: Don't even try to leave Old Faithful for at least half an hour after it blows. The traffic is worse than most city-type rush hours. Just go get something to eat or drink and take your time.
After the geyser blew again we continued north on US 191, stopping at various hot pools and such. Then, as we approached the connection with US 89, which continues north while US 191 heads west, we made a diversion. Johnathon had found what appears to be a stretch of the old highway, which runs for two miles alongside another gorge. Firehole Falls is the main attraction along here, but there is also a really nice spot with cascades and swimming in the river. A very popular place. (This spot is marked in turquoise on the map.)
We jogged west on US 191 to West Yellowstone for the night, then took it back in in the morning and continued north on US 89. This took us up to Mammoth Hot Springs, which is pretty much what the name says. (Also marked in turquoise on the map.) We stopped and walked around this place but Johnathon had also discovered that there is a road called the Upper Terrace Loop. This one-way strip of asphalt circles all the way around the hot springs, winding its way through the woods. A very nice motorcycle road.
From Mammoth Hot Springs we took Grand Loop Road east to Roosevelt, and from there Northeast Entrance Road to, of all things, the Northeast Entrance. Along the way we saw a bear or two, many buffalo, and various other wildlife. We also encountered that standard for Yellowstone, the tourist traffic jam that occurs whenever anyone spots a wild animal.
Lesson two: Best to take it easy along this road because you never know when you'll come swinging around a blind curve only to find a mass of cars stopped dead in the road to look at some critter.
We then hit our final construction delay within sight of the park entrance. Ended up sitting there for about 20 minutes before we could finally leave and continue on to our next adventure, the Beartooth highway.
Biker Quote for Today
She asked me to tell her those three words every woman wants to hear, so I said "Let's go riding."
Tags: motorcycling Wyoming